We specialize in
Rich Enterprises, Inc.
Rich Enterprises, Inc. was established in 1999 on the premise that businesses must not only maintain but must always seek new revenues and opportunities in order to succeed.
The benefits of contracting with us are that we have a strong team approach where your input is valued. We also specialize in servicing a vast span of industries including HVAC, refrigeration, energy, manufacturing and marketing. Rich Enterprises is a stable company with strong growth. We also have strong communications with a strong support network.
We will gain a thorough understanding of your needs and continually adapt to meet those needs. We look forward to answering your questions.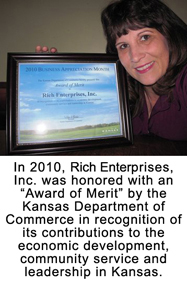 Honored by the State of Kansas and Goldman Sachs 10KSB
Rich Enterprises, Inc. was honored by the Kansas Department of Commerce as the 2007 Women Owned Service Business of the Year.
Honored by the State of Kansas - Rich Enterprises, Inc. received the "Award of Merit" from the Kansas Department of Commerce in 2010.
Graduated from Goldman Sachs 10,000 Small Businesses program in November of 2015.
---
Our Founder
Melissa Rich-Landis, President, brought to the company experience in business management, sales, and marketing. She has successfully managed several nation wide teams of up to 45 sales representatives within a variety of industries. To date, she has managed a range of accounts including hvac, refrigeration, energy, telecommunications, marketing, management consulting, and many others. In addition, she also holds a Bachelors degree in accounting and has also been active in several business associations. In 2008, Melissa also obtained her CeM (Certification in eMarketing).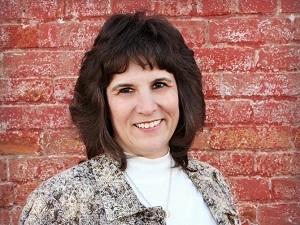 ---
Our Future
The Rich Enterprises, Inc. sales team is anxious to provide information about products, pricing, and answer your questions. Rich Enterprises, Inc. is responsible for a wide range of sales outsourcing services and looks forward to helping you.
---
Our Contact Information
Please feel free to contact us via any of the following methods:
Mailing Address - Rich Enterprises, Inc. - PO Box 473 - Lebo KS 66856
Toll Free Number - 888-443-5247
Connect with Us!
Learn more about what our customers say about our b2b outsourcing campaigns.
For press and media information, please view our press kit.
If you are interested in working for Rich Enterprises, please view our careers page.